About Palm Sunday
Palm Sunday is the fictional account of a private agency that is secretly monitoring the Internet. They are culling massive amounts of data from the private communications of ordinary people, without their knowledge. They do this by tapping into the underlying infrastructure of the Internet.
Why?
Their intent is to create a "societal profile", a snapshot of what Americans are concerned enough to be communicating about. Originally intended as a mechanism to predict when the United States might be in peril of losing its place of preeminence, the process has been subjugated to the whims of a power hungry leader with his own peculiar agenda.
When a ten-year-old boy finds a hand-held computer and brings it home, it opens a window into the clandestine activities of the secretive agency.
Purchase the Ebook
---
You can buy Palm Sunday as an eBook from the retailers below. If your favorite vendor is not listed, they may carry it as well.
Kindle
Barnes & Noble
---
About the Author
---
Bill lives in northwestern Pennsylvania with his family and many pets. He is an Edinboro University of Pennsylvania alumnus, with a Bachelor's degree in Russian Language and additional certifications in computer programming and operations.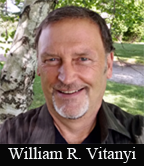 In 2009 he proposed and established the Impact writing contest, in which students at Edinboro University of Pennsylvania. submitted paragraphs of 200 words or less on a topic of their choice. The authors of the paragraphs with the greatest impact won. Over 40 students participated.
He has written several books, numerous articles at Hubpages.com (see Articles on the main page) and founded the Build-A-Book project.
Before writing Palm Sunday, Bill found a handheld device that someone had lost. In an effort to return the device it was necessary to open it and search for the owner's name. It took a bit of digging, but it turned out to belong to a coworker, and it was returned.
This incident was the kernel of a germ of an idea that sparked the thought that became the concept behind Palm Sunday. As such, it was the beginning of the thing. You just never know where an idea will come from.
Connect with Bayla Publishing
Connect with William R. Vitanyi
Vitanyi
Follow @vitanyi
To contact the author send email to: Contact William R. Vitanyi
Excerpt
---
Chapter One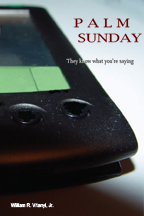 Robert Slocum casually tossed down a shot of whiskey, pursed his lips at the bite, and followed it with a swallow of cold beer. He didn't drink much, and he hadn't today. The single shot with its beer chaser was simply part of a routine he always followed before meeting a client. Throwing a few bills on the counter, he nodded at the bartender and walked towards the exit.
It was late, well after midnight, and a mix of drizzle and sleet had just started to fall. No matter, his car was only half a block away. He stepped onto the poorly lit sidewalk, and had gone no more than ten paces when something struck him a savage blow to the back of the head.
He felt himself falling, slowly corkscrewing towards the concrete walkway, as if in slow motion. Powerless to stop himself, he crashed to the ground as darkness slowly engulfed him. The faint perception of something tugging at his clothes, and distant voices, were among his last memories as he slowly lapsed into unconsciousness.
---
Palm Sunday: Read entire Chapter One Open PDF.
How To Create A Societal Profile
---

Social freedom is a democratic imperative, but if privacy of communication is violated on a national scale, that freedom is at risk. Using database and related technology to create a societal profile may result.
How To Create A Societal Profile
---
We are a participant in the Amazon Services LLC Associates Program, an affiliate advertising program designed to provide a means for us to earn fees by linking to Amazon.com and affiliated sites.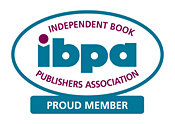 © 2021 Bayla Publishing LLC