About Kyuboria
Kyuboria (n): It's a cubicle (kyubicle). It's boring. Also used to denote the collective of all interior cubicle space.
Kyuboria is about a State Worker who is trying to get fired from his cubicle job so he can qualify for a grant to start his own company - but the State never fires anyone.
This is the pathetically humorous story of one man's escalating schemes to get fired from an organization that doesn't know how. More than a humorous story of cubicle antics, Kyuboria is a metaphor for breaking out of the box.
Clint Palmer, the central figure of Kyuboria, has spent far too much time in the box. His weariness has been honed to razor sharp indifference, tempered by a total lack of interest. He realizes all too well that he must get out, if only to preserve his sanity, but his will to achieve has atrophied to the point of immobility.
This is what makes him a cubicle hero, of sorts. No one expects much from him, but Clint realizes that to escape he will have to put forth the effort of a lifetime. He will have to accomplish the unthinkable. He will have to get fired by the State.
About the Author
---
Bill lives in northwestern Pennsylvania with his family and many pets. He is an Edinboro University of Pennsylvania alumnus, with a Bachelor's degree in Russian Language and additional certifications in computer programming and operations.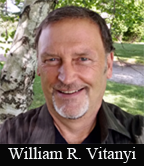 In 2009 he proposed and established the Impact writing contest, in which students at Edinboro University of Pennsylvania. submitted paragraphs of 200 words or less on a topic of their choice. The authors of the paragraphs with the greatest impact won. Over 40 students participated.
He has written several books, numerous articles at Hubpages.com (see under Articles on the main page) and founded the Build-A-Book project.
Bill is a bit of an anomaly. He worked as a computer programmer for many years, and is also an app developer. Thus, he is no novice to technology. However, is is also a creative writer. In addition, he spent many years secluded within the fabric-covered walls of an office cubicle. Put them all together and you get Cubular-tech-writer-guy.
Perhaps Kyuboria was inevitable.
Connect with Bayla Publishing
Connect with William R. Vitanyi
Vitanyi
Follow @vitanyi
To contact the author send email to: Contact William R. Vitanyi
Excerpt
---
Chapter One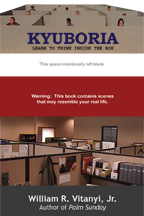 I had spent most of my working life as a drone. A well-educated, high performance drone, to be sure, but a member of the hive nonetheless. My prime directive had always been to blend in, to participate, to conform. This required a high level of attention to the details of others. The needs of others was my call to action. Nothing was impossible. For a dedicated programmer in the state's Federated Alliance for Increased Learning—a monolithic disturbance on the genitalia of corporate indifference—a request was nothing short of an order, failure not an option.
The User's need was my personal challenge.
Programmers can do anything.
Any task can be automated.
How things changed that fine spring day.
Let me start at the beginning.
Mr. Randolph walked into my cubicle, my ten by ten grey enclosure, in much the same fashion as on any other day. He assumed the official State Worker position, leaning against my pretend office wall, right arm bent rigidly at a ninety-degree angle, coffee cup suspended at cooling distance.
"How's it going?" he asked, the familiar routine now part of his genome.
My answer should have been something like "Great" or "Okay." Instead I said, "Can you be more specific?"
It was unexpected. As in not the anticipated response. Sort of like the blue screen of death, only not quite as dramatic. Windows may be the most popular operating system, but it's not the most popular operating system.
If you know what I mean.
Mr. Randolph was perplexed at my answer, which was really a question. Wrapped up in an attitude.
"Well," he said. And that was it. I had deviated, and his internal behavioral program lacked the flexibility to adapt. His face contorted mildly as he hesitated, started to say something else, then awkwardly retreated from my cubicle. I sat staring at the place he had vacated, admittedly somewhat bewildered. I was puzzled at his reaction, a little. But I was more intrigued at my own response to his initial query. I had answered his question with a question, and a pretty esoteric one at that. My own behavior had departed from the norm.
Why?
I know now that it was the beginning. The process of awakening had begun, even then, but I was still too numb to realize it. Years of toiling in the obscurity of Kyuboria inexorably dulls the patina of enthusiasm. A shining beacon of zeal is ground into a nub of apathy, which prevails for a long time, perhaps until retirement. At which time it festers until overtaken by death. The cube dweller becomes not entirely indifferent, but rather dronish, working regularly and endlessly to advance the cause of receiving a paycheck.
It's not what you'd call a noble pursuit, but it is a pursuit.
Dogs chase their tails.
This, too, is a pursuit.
After many years they still chase their tails, only more slowly, and with the knowledge that they will never catch their tails. It's what they do.
In rare cases—very rare cases—a different course is followed. How it happens, or what triggers it, is not known.
Cannot be known.
It is the mystery of Kyuboria.
---
Kyuboria: Read entire Chapter One Open PDF.
Origin Of The Cubicle
---

In 1997, three decades after his work on Action Office, Robert Propst said that he had hoped that his idea would "give knowledge workers a more flexible, fluid environment than the rat-maze boxes of offices," but regretted that his idea had evolved to some extent into just that, saying that "the cubicle-izing of people in modern corporations is monolithic insanity".
---
We are a participant in the Amazon Services LLC Associates Program, an affiliate advertising program designed to provide a means for us to earn fees by linking to Amazon.com and affiliated sites.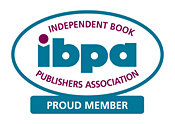 © 2021 Bayla Publishing LLC